---
---
Walkthroughs
I know how it sucks when you get stuck in an adventure game. That's why I have assembled a page with the walkthroughs for the Mark Data's adventures created by Bob Withers and Stephen O'Dea (i.e., Black Sanctum, Calixto Island, Sea Search, Shenanigans, Trekboer and Vortex Factor). You can find the Coco and PC games (source and binaries), and also some games' maps at the Bob Withers' site.

Obs.: since Bob Withers' site went offline for quite a while (and it doesn't seem it will ever come back), I'm making available here the files he had on his website at the "Adventure Source Code" section:

If you want to see cheats or solutions for other games, ask me. I might help if I can manage to remember something. And, of course, contributions to this sections are welcome.
---
Softwares

M.E.S.S. - Multiple Emulator Super System, a free software which emulates a large variety of different systems, including the TRS-80 Color I, II and III (CP-400 was a TRS-Color II clone).

The last version I used, 0.102b, had 10.6MB (compressed). The strong point of this emulator is to be able to run under the most recent versions of the Windows, Unix and Mac OSes. If you want an emulator that runs under DOS/Win9x, you can try the one below (from Jeff Vavasour), which is much smaller.

Guia rápido de uso do M.E.S.S. (portuguese only)

To use M.E.S.S. you need a copy of the ROM BIOS, wich is not included in the emulator. If you're not sure which ROM to get, get them all:

ROM do coco2 (21.687 bytes)

ROM do coco2b (21.690 bytes)

ROM do coco3 (29.095 bytes)

ROM do coco3h (29.095 bytes) (igual a ROM acima)

ROM do coco3p (30.497 bytes)

TRS-80 COLOR COMPUTER II EMULATOR Ver. 2.16,
from Jeff Vavasour (66.056 bytes, compressed with PKZip).
(Works fine under DOS/Win9x, so you might prefer M.E.S.S.)

Also, you will need a copy of the original ROM BIOS, wich is not included in the emulator:

Color Basic V1.0 (Prologica 1984) ROM (14.331 bytes)

Prologica Basic Disco (VS-1.0 84) ROM (21.108 bytes)
---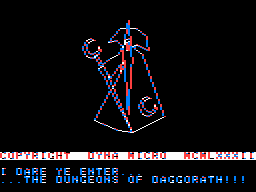 Game Pack III
Virtual Disk - 91.410 bytes (compressed)

Apples
Astro Blast
Bumpers
Dagorath
Death
Defender
EditASM+
Gazon
Joust
Meteors
Robotack
Rommel 3D
Sking
---